Food of Gujarat
Here is a list of Gujarati Food items that you absolutely can't miss:
1. Khaman – The Sponge Snack
A tasty and healthy steamed snack made from freshly ground lentils and chickpea flour, it is very similar to its humble cousin, the world-famous -dhokla. To prepare the khaman, the khaman flour mix is boiled along with turmeric, salt and baking soda to make it light and fluffy. It is then cut up into cubes and usually garnished with mustard seeds, coriander leaves, sev and chopped onions. Traditionally served on a large green leaf called the Kesuda, the modern, urban version is served in newspapers in farsan (snack) shops with tangy chutneys and several pieces of green chillies. Popular adaptations of the khaman include Ameri khaman (mashed up khaman garnished with sev and pomegranate), Nylon khaman (softer and fast-cooking khaman) and Masala khaman (khaman served with hot and spicy chilly powder)
2. Thepla – A Snack that every Gujarati Swear by!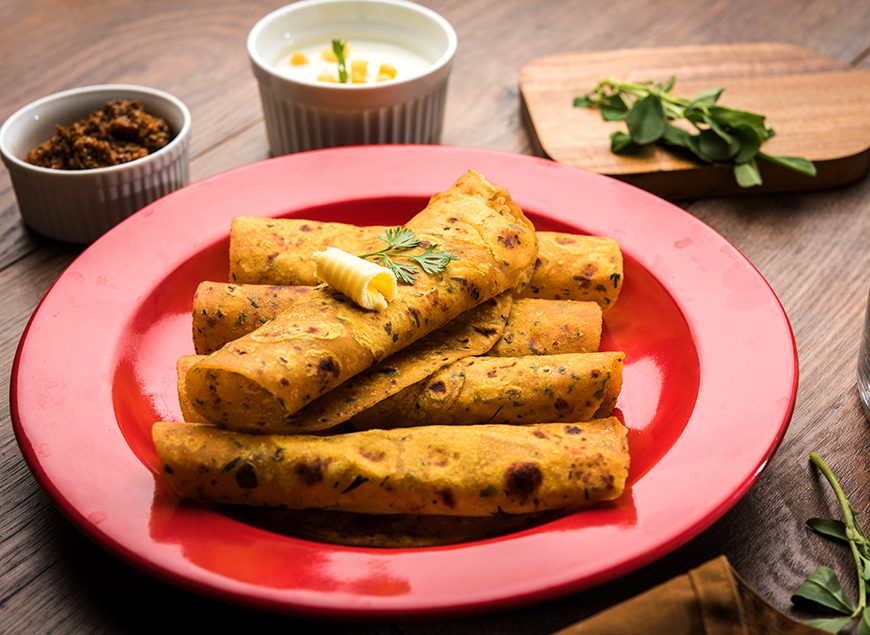 No Gujarati journeys, picnics, foreign trips or even business trips are complete without this ubiquitous snack. Made from gram flour, whole wheat flour, fresh fenugreek leaves and spices, these flatbreads are healthy snacking options with a long shelf life. Usually served piping hot with fresh curd, pickles or chundo, they make wholesome meals. When accompanied by a cup of steaming hot tea, they also make a sumptuous breakfast or a great snack during the monsoon. Although the methi (fenugreek) ones are the most common, other varieties include palak (spinach), amaranth or muli (raddish) theplas-specially recommended for fussy eaters.
3. Khandvi – The Delectable Gujarati Naashta

Thin layers of gram flour cooked with buttermilk and rolled up in mushy goodness, seasoned with sautéed sesame seeds and a few other spices, that's khandvi for you. The simple but aromatic garnishing of curry leaves, coriander, sautéed cumin, mustard and coconut makes it simply irresistible.  Also called 'suralichya wadya' in Maharashtra, it is a popular snack among Gujaratis and Maharashtrians alike. Although loved by all, no one can deny that this dish is a little tricky to cook, especially getting the consistency of the batter right. Light on the stomach and pleasing on the tongue, khandvi can be a perfect breakfast item or a delectable evening snack.
4. Undhiyu – The Winter Delicacy

The king of Gujarati dishes Undhiyu (and of course Uttarayan) is the reason why a Gujarati eagerly awaits winter. It derives its name from the Gujarati word undhu, meaning inverted, it is a classical Gujarati dish made in an inverted clay pot. It is a special winter delicacy made from the choicest of fresh produce readily available in winter. Common ingredients include eggplant, crunchy muthiyas (fried chickpea flour dumplings), potatoes, yam, green peas, bananas and beans, slow-cooked to perfection with buttermilk, coconut and spices. Undhiyu served with puris and shrikhand is a common occurrence during Gujarati weddings.
5. Muthiya – The snack you couldn't say no to!

Named after the action that is used to shape the dough, these fist-cakes make for a great breakfast or evening snack. To prepare these, a mixture of chickpea flour, bottle gourd and spices is prepared, steamed, pan-fried and seasoned. If you skip the pan-frying, it becomes a great meal for the health-conscious folks. Other varieties include usage of spinach, fenugreek, amaranth or even bitter gourd. Juicy and fluffy on the inside, golden and crispy on the outside, no one can ever say no to a bowlful of muta hiya. Best relished with a dash of mint-coriander chutney or ketchup, and a cup of steaming hot tea. Try this Gujarati dish to know what it is all about.
6. Handvo – The Savoury Cake
Traditionally prepared over charcoal or in a pressure cooker, handvo is essentially a savoury cake. To prepare handvo, a batter of lentils and rice is prepared and fermented overnight, and then baked. They are sometimes also pan-fried to make them crispy and golden, and the sesame seed seasoning makes them just irresistible! These nutritious pan-fried or baked lentil cakes are a very popular one-dish meal in Gujarati households. Like most other Gujarati snacks, they are best enjoyed with tangy green chutney and a hot cuppa.
7. Fafda-Jalebi – The Dream Cheat Day Breakfast!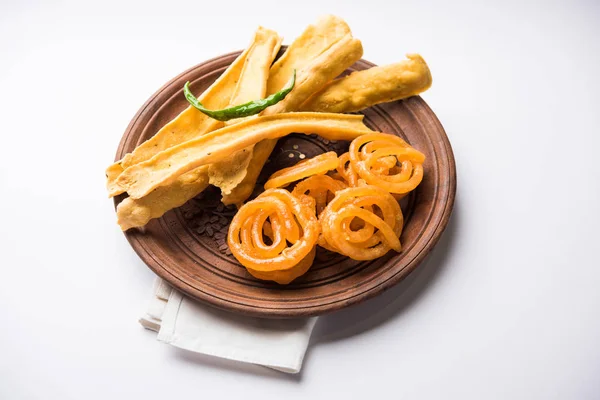 Made hugely popular by the daily soap 'Taarak Mehta ka Ulta Chashma', this is (almost) every Gujarati's dream cheat-day breakfast. Fafda is a crunchy, fried chickpea flour snack, jalebi is a sweet deep-fried pretzel made of wheat flour and dipped in sugar. Together, they are a match made in heaven. When you take a piece of the crunchy, salty, spicy fafda and eat it with a piece of the crunchy, sweet jalebi, you are sure to be in food heaven. Have a fried chilly or a whip of the dry papaya chutney with this combination, and your taste buds will burst away to glory. Almost every street corner in Gujarat, esp. Ahmedabad has a shop selling these. On Sundays, there are huge queues outside farsan shops, for an indulgent breakfast of this heavenly duo.
8. Lilva Kachori – The perfect rainy-day snack!
A great winter and monsoon tea-time snack, kachoris are balls made of flour and stuffed with any filling of your choice. They are a popular delicacy in the western and northern part of India. Lilva Kachori is a special Gujarati dish, made with a filling of pigeon peas. To prepare these the kachori dough is prepared from white flour and semolina, rolled out and filled with the lilva mixture (pigeon peas, green chilies, coriander and spices), rolled into balls and then fried off. Best served with tangy chutney or sauce, this is a crunchy, tasty snack that can make the cold evenings warmer and more enjoyable.
9.  Sev Tameta nu Shak
A sweet, salty, tangy, spicy shak (vegetable preparation) made from tomatoes and sev is a favourite Gujarati dish, especially among children. To prepare this dish, diced tomatoes and onions are sautéed with oil and spices and then cooked in steam. Crispy sev is added as a garnish at the time of serving along with freshly cut coriander. Easy to make and delicious to eat. It ticks all the boxes-colour, texture, crunch, flavour etc. Relish it with parathas, theplas or the humble phulkas for a hearty meal.
10. Gujarati Kadhi
No Gujarati thali meal is ever complete without the kadhi. Distinctively recognized because of its white color, this is a traditional dish made of sour curd, spiced with thickened gram flour and sweetened with a jaggery or sugar. The texture of this sweet and spicy, thin soup-like kadhi can be enhanced with the addition of koftas or pakoras. It makes for an excellent summer dish because of its cooling nature, and is best relished with soft phulkas or steaming hot basmati rice.  Hearty to eat and simple to cook, it is a staple food of Gujarat.
11. Khichu – The soft and gooey snack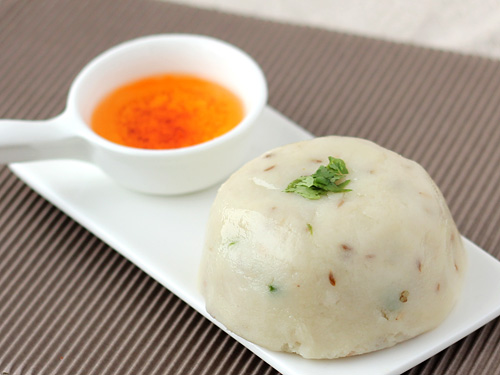 What started off as a dough for making the yummy khichiya papads, itself ended up as a delicious dish. Commonly found across the food stalls in many Dandiya and garba venues during Navratri, it is a dough made from rice flour added to boiling water alongside green chillies, cumin seeds, and sesame seeds, then cooked in steam and seasoned with groundnut oil. The groundnut oil seasoning gives a gourmet touch to this simple, wholesome dish. Although it is commonly prepared using the rice flour, other variants include usage of wheat flour, nachani (ragi) flour, bajri flour and jowar flour. Its warm, soft and gooey texture makes it a great evening snack during the colder months, loved by children and adults alike.
12. Gota – The Gujarati Pakoras!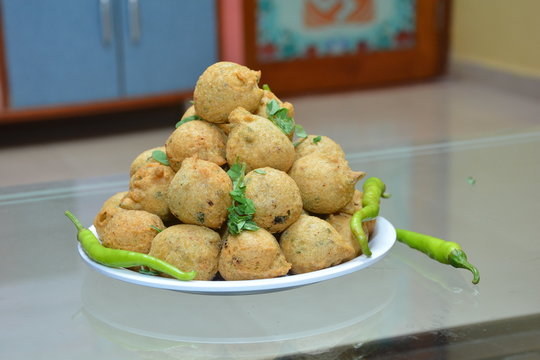 Each state in India has its own version of the golden, crispy, yummy pakodas (fritters), and Gujarat is no exception. Gota is Gujarat's very own pakoda dish made from gram flour and fenugreek leaves. Originating from the village of Dakor in Gujarat, Gota is a traditional Gujarati dish and a special delicacy during Holi. Easy and fast to prepare and having a soft texture, it also makes for a delicious evening snack, especially when it is raining outside. Best relished with ketchup or a sweet and tangy chutney made from dates and tamarind.
13. Mohanthal – Janmashtami Delicacy

A signature dish of many Gujarati households with each housewife adding her own special touch to this traditional recipe, Mohanthal is a soft fudge-like sweet made from sweetened gram flour (besan) and flavoured with saffron, cardamom and nuts like almonds and pistachios. A simple and homely treat for the palate, it is said to be Lord Krishna's favorite dessert, and hence made very lovingly during the festival of Janmashtami. Although a traditional dessert, it is sometimes also prepared to satisfy those untimely dessert cravings. It can also be served as a tea-time snack, and can be found in all mithai shops across the state.
14. Murghanu Shaak – For all the non-vegetarians out there!

A metaphorical slap-in-the-face for all those who think Gujarati food is only about vegetarian food. Murghanu Shak is a unique taste of Gujarat that celebrates those authentic Gujarati flavours of the drumstick, potatoes and the Gujarati masala in this sweet, sour and tangy chicken dish. The chicken is marinated in a mixture of oil, yoghurt and spices and then cooked in a lovely gravy of onions, garlic, ginger, chilli powder, garam masala and any other vegetables you may wish to add. It is a delicious, fast and easy recipe to make some delicious Gujarati-style chicken at home.
15. Ghari – Gujarati Sweet
Surati Ghati as it is usually called is a sweet dish so called because it is mainly prepared in Surat, Gujarat to be consumed during the festival of Chandani Padva, which is actually formed around the dish itself. Ghari was actually prepared by the cooks of Tatya Tope(freedom fighter) to provide extra strength to the freedom fighter's soldiers in 1857 on a moon day. Suratis consume around 100000 kg of Ghari every year on Chandani Padva. Ghari is made of milk, ghee and puri batter with sweet fillings inside which is then moulded into round shapes. These are also made in many different flavours like pistachio, almonds and more.
16. Khakhra – A non-fried crispy wonder!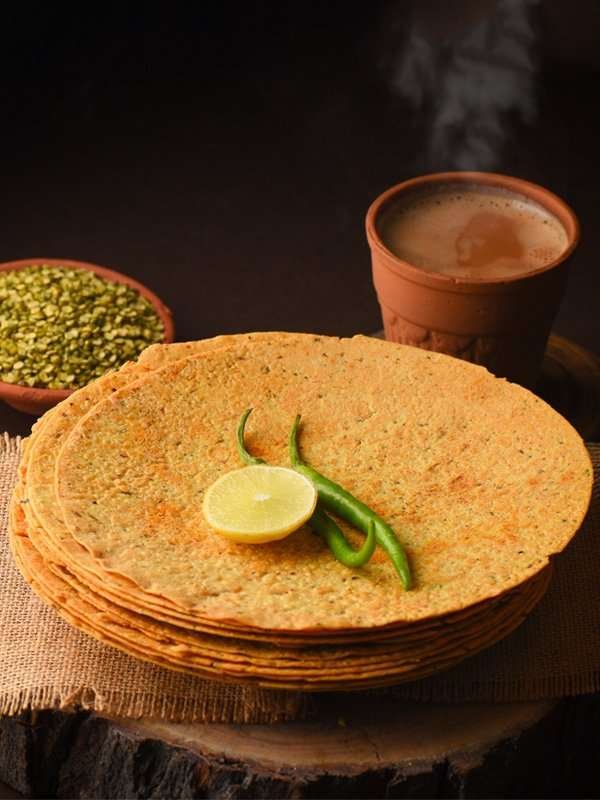 Khakhra is a thin cracker made with moth beans and wheat flour as its basic, core ingredients. A bunch of chosen spices, a bit of oil and these non-fried, yummy crisps are ready to relish. Khakhras are a very popular accompaniment in breakfast and also as light evening snacks. They are not just light and tasty, but healthy as well. There are a whole lot of different flavours in these delicious, thin tortilla-like crisps. Methi, Masala being the most common ones; one can now easily find an array of creative and exciting flavours such as Pav Bhaji, Pani Puri, Pizza, Garlic Bread, Chaat Masala, Manchurian, Instant Noodles, Vada Pav and a lot more! As unbelievable as this sounds, these flavours of Khakhras actually exist!
17. Doodhpak –  Not just your regular rice pudding!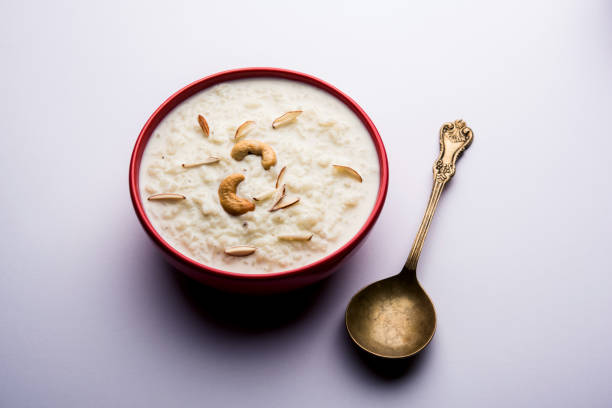 Doodhpak is a traditional Gujarati sweet dish. It is known for its delectable flavours and textures. It is prepared with ingredients such as milk, Basmati rice, sugar, cardamom, saffron and dried fruits like almonds, pistachios, raisins etc., and a dash of Desi Ghee. The milk (along with rice and sugar) is simmered and thickened to form this beautiful, rich texture and enhance the flavours. The subtle hint of saffron and mild coarseness of the almond paste help make them taste all the more enjoyable. Garnished with dried fruits and cardamom powder; served with soft, fluffy, hot puris and Doodhpak is ready to binge on!
18. Chorafali – The irresistible crunchy bites!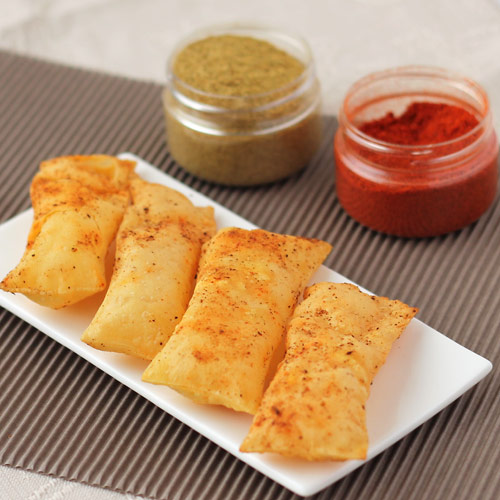 Chorafali is another fun, crunchy snack coming from the Gujarati cuisine. It is made of flours like urad flour, gram flour, a bunch of spices like chilli powder, dry mango powder, black salt etc. The dough forms thin strips that are then deep-fried in hot oil. The frying makes them fluffy, yet crisp. Tossed in dry spices at the end, this yummy snack is ready to eat. It is a popular Diwali snack. Chorafali can also be stored in an airtight container and kept for about a week.
19. Dabeli – It's like Vada Pav with a major twist!
The word Dabeli refers to 'pressed.' It is a type of dish that is made using a mash potato mix that has spices, onions, tamarind chutney, coconut, some pomegranate seeds, peanuts coriander and boiled potatoes. This potato filling is placed between two bread buns and cooked on a Tawa with some oil. The buns are then pressed and flattened to make the Dabeli true to its name. It is a somewhat crunchy, savoury, flavourful fast food dish that one can grab and go.
20. Ghughra – You can never have enough Ghughra!
Ghugra or Gujiya is another festive Gujarati snack. It is also known as Karanji in various parts of India. This one is prepared using a refined flour dough that is stuffed with a filling before deep frying. The filling is made using roasted semolina or rawa, dry fruits such as almonds, raisins; grated coconut, cardamom powder and sugar. It is the style of wrapping the filling in the tortilla that is quite unique and interesting. They are formed in a half-moon shape, where the round edge is twisted to create a pattern.
21. Gathiya
Gathiya is a tea-time snack. It is primarily made of besan or gram flour. It is like a thicker sev, however, there are a few notable differences. There are usually two kinds of Gathiya: Tikha (spicy) Gathiya and regular Gathiya. The difference is in terms of the spices used in the dough. The regular one has carom seeds, salt, turmeric, soda bicarb, and a dash of oil. Tikha has additional spices like black pepper and red chilli powder. The dough is then made to pass through a mould, making its strands, straight into the oil for deep frying. The end result is not crunchy, but a bit soft. Must try, for sure!